This Easter we're making Ethical Easter Gifts!

For every £10 you donate you'll receive a limited edition Hopscotch the Hare screen-print. Every penny will directly support our work with people affected by dementia.
Our Hopscotch the Hare screen-prints are made by hand using our own screens. We worked with local print artist, Lizzie Meakin to create a wonderful series of prints for our show Wildernests.
Simply donate using the button below. You'll get one Hopscotch print for every £10 you donate so be sure to drop us an email and let us know where to send your prints. hello@handmadetheatre.co.uk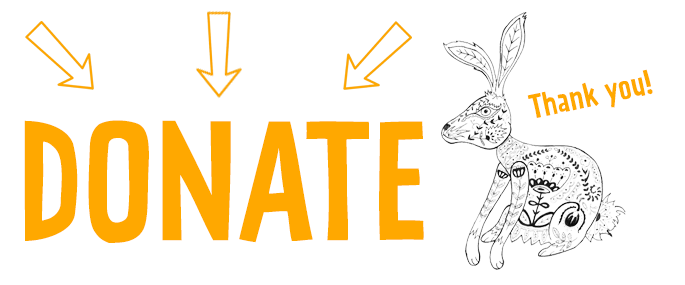 Help bring wonder and joy to the world
Your support makes a huge difference. Thank you for sharing in our vision and love of play and creativity.
Thanks to financial support from people like you, we're able to bring laughter, joy and healing to children and communities around the UK. Thank you!
Other ways to get involved
Become a regular giver
Regular monthly donations help make sure HandMade Theatre is here now and in the future. Whatever you can spare each month really does make all the difference, and means we can bring more experiences of wonder to people of all ages.
Make a donation
Any amount you give is hugely welcomed and your donation will help us to create creative happenings and live performances that can be enjoyed by everyone.
Fundraise for us
From bake sales to bike races, there are lots of ways you can help raise money for us and have a good time while you're at it – and we'll be with you every step of the way.
Sponsor us
We love to partner with like-minded companies to create unique performances. Get in touch to discuss how we can work together.
Hire us
Interested in how we can bring love, laughter and joy to the people you work with? We can create tailor-made performances that will meet the needs of your service users, customers and clients, no matter what their age or ability.
Fund us
We rely on donations from trusts and foundations. To find out more about the impact we achieve with your help, see our Impact page.
Buy from us
We make a range of unique handcrafted objects which help fund our company and the artists we work with. They are a great way for you to remember your HandMade Theatre experience and support our on going work.